WHY GOOD GOVERNANCE MATTERS?
Numerous studies have confirmed that firms with strong corporate governance scores show better operational performance and are typically less risky. In addition, better corporate governance practices can achieve higher levels of investor trust and confidence leading to more robust economic development.
Many local companies have embraced good governance practices by putting in place well-structured boards, sound risk management and control frameworks and strong disclosure regimes, among other changes and reaped the benefits – including improved performance, mitigated risk events, better access to capital and improved reputation.
"Mang đến những phương pháp hữu ích - Giúp cải thiện đáng kể quản trị doanh nghiệp trong nước"
"Mang đến những phương pháp hữu ích - Giúp cải thiện đáng kể quản trị doanh nghiệp trong nước"
"Cơ hội tuyệt vời để tôi gặp gỡ những người hướng dẫn rất nhiệt tình và hài hước"
DIRECTORSHIP
Directorship Readiness
Webinar/GAP
Corporate Governance Knowledge Advancement
Fundamental CG programs (DIP, DCP)
Accompanying Competencies Development
Intensive programs for professional (IAFB, ACMP,…)
Professional Insights Learning
Professional documents, reports and periodicals published by CG experts
Membership Networking
Exclusive activities for members of VIOD's Network
UPCOMING EVENTS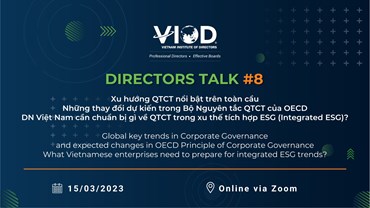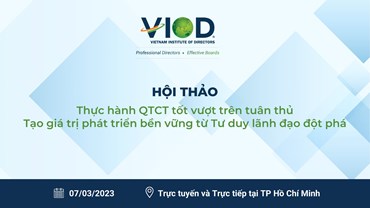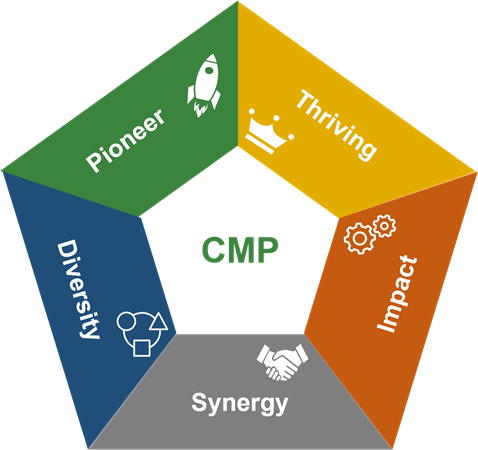 Corporate Membership Program
(CMP)
The Corporate Membership Program (CMP) is the first and unique program for pioneering Vietnamese businesses to join a network of well-governed, standardized and efficient companies, aiming to share knowledge and experience by connecting the network of companies and members through workshop events and intensive programs organized by VIOD with partners, increasing professional values of the CG's practitioners.
Read more